9:35am- In the Legislative Assembly this morning, the Mandatory Indigenous Seat on All Victorian Councils Bill is being read and debated.
9:37am- The government argues against the bill, that instead there should be adopted a program similar to that of support for women in local councils.
9:47am- "They  must be able to stand on their own merits" argues the government against the bill.
It "draws a definitive line between those who are Indigenous, and those who are not."
They believe the bill is defining potential candidates by their race, rather than by their qualifications and merit.
9:52am- Government asks the Opposition, "Do we need more of  the same?", saying that  there are already  a  number  of acts and councils supporting this issue.
9:55am- "You do not need to have a seat to have an impact"
9:58am- The opposition talks  about a  mentoring program, giving Indigenous Australians the opportunity to make a difference in their communities, learning about  the governing  process.
10:01am- "This bill will not achieve the anti-discrimination that we all desire."
10:04am- Government says we'd be better off investing in a leadership  program,  because this bill "goes against everything that is democracy."
"There's a better way to do it."
10:08am- 
10:07am-  The government argues that the responsibility "should be on everyone" rather than on the one candidate.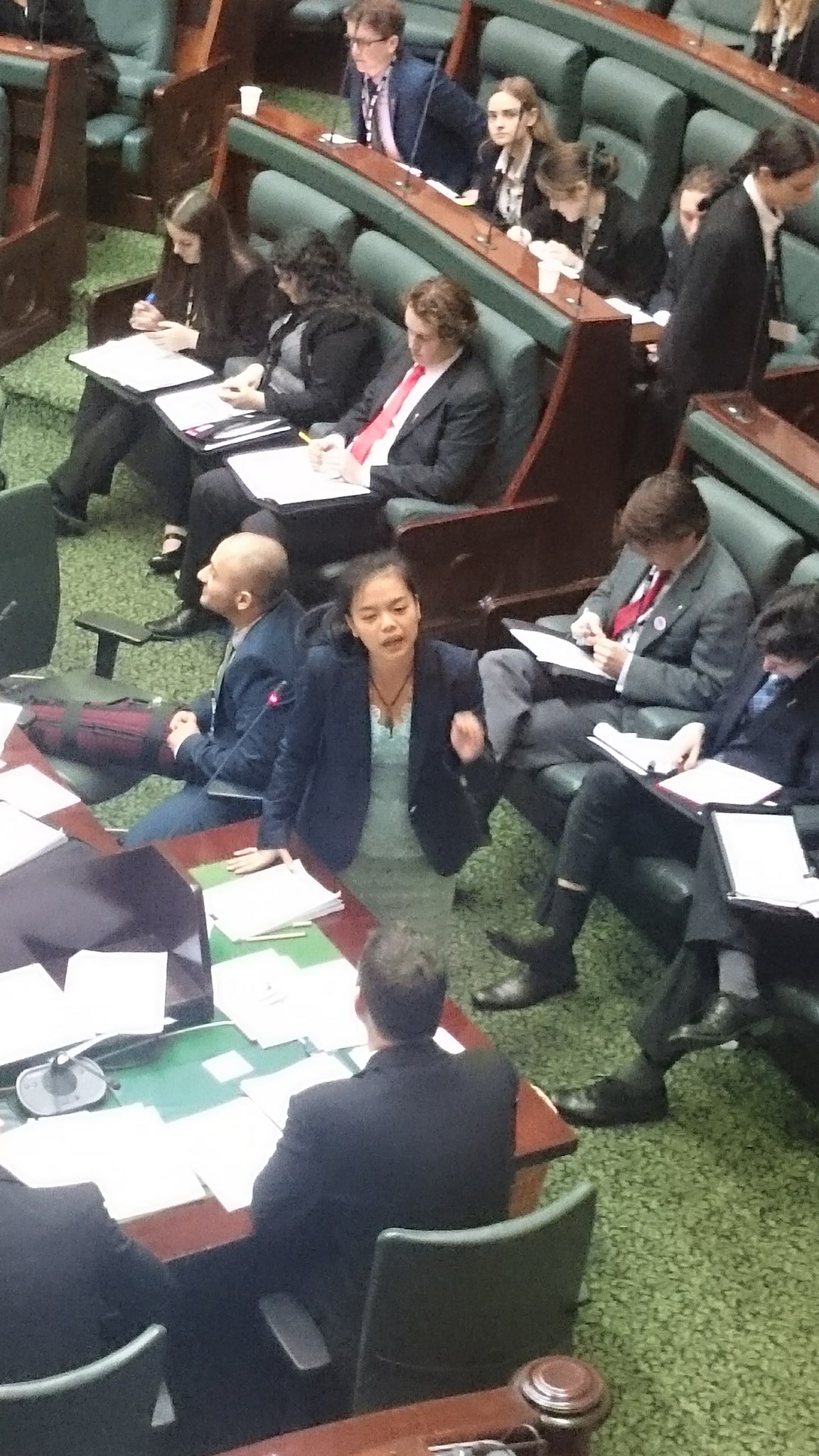 10:12am- "It's 2016 and change should start now."
10:14am- Bill is now being  considered in Committee of the Whole.
10:15am- Opposition question proposed amendments, "why should  they need to go through training" when other members of council do not.
Government says they need this, in order to represent their communities to the best of their abilities.
10:24am- Government proposes monthly local forums, where  local Indigenous elders will be consulted.
10:26am- The bill is being read a third time after amendments were agreed to.
10:29am- Votes are being counted now.
10:32am- The bill passed, votes 37 to 16.
---
10:58am-  The Girls' Access to Education and Health Products Bill is being debated right now, and has gotten heated right away.
11:00am- The government is arguing  the program cannot be established within 6 months.
11:02am- Government describes the bill as a "band-aid fix", that will cause ""a plethora of problems." To shouts of "Shame!"
11:04am- "What is luxurious about period cramps?" The opposition asks.
11:05am- Government argues  that those in true need  of the bill are unable to access its benefits.
"It must be accessible to ALL struggling women."
11:09am- "There has been sexism and discrimination  regarding women and menstruation."
11:10am- The government argues an education program should not be used in ALL schools, using  an example of an all boys school.
11:13am- "It is a big ask and commitment" the government says about a committee, responsibility  given to girls between the ages of 15 and 18.
11:8am-  The  opposition describes the empowerment of women as a "broader public good", as part of the committee and as a whole.
11:20am- The government says some girls will be unable to  provide the proper  documentation and asks, "are these girls undeserving?"
11:21am- The opposition tells government that not all members of the committee will be minors. And says that the fact that the government questioned an all boys school needing an education program, "just shows that they do.."
11:23am- It is "completely unsustainable in this system" says the government, and questions the age limit of 25.
11:25am- "They say the  age of chivalry is dead. Should the age of politeness be as well?"
11:27am- "If we allow this bill  to go through, we will be allowing a band-aid solution to be applied." Says  the Youth Premier.
11:29am- "This bill is a disgrace. It is a logistical nightmare."
11:31am- "How can the opposition speak about inclusion, when over 25's are excluded?" The government says, and debate is getting  fiery.
11:36am- "Think of the 26 year olds!" The government shouts to the opposition.
11:39am- "A band-aid proposal is still a proposal. It is  a step in the right direction."
11:41am- Committee of the whole is beginning.
11:43am- "It's not sustainable."
11:44am- Government argues that 'girl' in the bill  should be replaced with 'any  person who experiences menstrual flow."
11:47am- Government argues having six 15 to 18 year olds on the committee is "excessive."
11:50am- "Please actually listen to what wee are saying." The opposition says to the government.
11:52am- divisionn in Parliament.
11:53am- count: 25 to 27
11:55am- The bill has passed.
---
By Netania Lim
1.48pm Debate on image alteration bill begins.
1.51pm Government advocates for bans on image alteration because of the rise of body shaming.
1.54pm Refuter questions effect on businesses.
2.14pm "We want to redefine the standard."