9.38am The debate is underway on the Equal Access to Breast Milk Donations Bill in the Legislative Council!
9.40am Currently in Victoria, the only established breast milk bank is within the Mercy hospital. The sponsors argue breast milk donations should be readily available to help premature babies receive nutrients.
9.41am  The Opposition questions, "is a mothers breast always best?"
9.45am Sponsor argues breast milk can help save lives.
9.46am The refuters question how can it be ensured that a premature baby is being fed consistently with the right amount of nutrients if it can change in breast milk? Lactose levels in breast milk are lower in the morning than the afternoon and levels can change from mother to mother.
9.48am Elizabeth Bonny speaking for the Government:"Breast milk is ultimately better than any type of formula. I'll give you one word – colostrum."
9.50am "Breast is best"
By Netania Lim
9.56am I'm taking over from here 🙂
9.57am Breast milk best for babies
9.59am Breast milk can only be used for 72 hours – impractical, says opposition.
10.00am Inconsistency in who the government is trying to assist, with contradictions in the clauses, says opposition.
10.01am Firstly, equal access.
10.02am USE YOUR COMMON SENSE!
10.04am Babies are already vulnerable.
10.04am Ethical considerations to be addressed.
10.05am Supporters of the bill look to China's problems with infants dying from poor milk formula.
10.06am Can we guarantee that infants will not die?
10.08am Why is there an assumption that there is so much breast milk? "We might not have enough for everyone," says opposition.
10.11am "This bill is redundant." – OPINION! SHAME! ORDER!
10.16am Think of the children!
10.17am There are some instances when mothers cannot produce breast milk, says sponsor of the bill Tessa Buchanan.
10.17am Bill sponsors want to give children the best start in life and give parents a choice.
10.18am Second reading of the bill.
10.22am Division called over clause 7 amendments.
10.25am Amendment lost.
10.27am Clause ten omitted.
10.30am Bill passes unanimously!
---
10.43am Debating alternative schoolies programs in the Legislative Council right now!
10.45am Sponsor of the bill tells story of how a volunteer trip to Cambodia instead of schoolies changed her life.
10.46am "This bill provides just that, an alternative way to celebrate the end of school."
10.48am Repetition of programs already available which "parallel what the opposition is offering," says opponents of the bill.
10.49am Where will the government find the funds for two chaperones for alternative schoolies attendees?
10.51am "I applaud the intentions."
10.53am Why would teachers want to support students who no longer attend their school?
10.56am The bill is not clear enough, says opposition.
10.57am Will the responsibility of funding schoolies be left to the school?
11.00am The government should look at regulating drugs and alcohol use at schoolies.
11.01am Teachers have classes in more than one year level.
11.01am Some students are 17 years old when they leave school so need support from adults, supporters argue back.
11.06am "What are we saying to our youth?"
Advocates want alternative schoolies because it means life experience.
11.11am Youth going on alternative schoolies can be inspiring for adults. Truth.
11.12am "I barely have duty of care over myself." brings laughs to the chamber.
11.13am "Charity should start at home."
11.15am "This bill is a step in the right direction."
11.15am Support a culture of giving, says supporters of the bill.
11.18am "We believe and we know that it is not the only option to get blinded by Gold Coast schoolies."
All about the message, not the legislation.
11.20am "Overly protective and overly motherly."
11.23am "Student-teacher relationships can be friendships."
11.25am "If I had the option of doing this program, I wouldn't do it."
11.31am Opponents think the bill is a waste of resources.
11.38am Counting votes from a division.
11.39am Clause eight is lost.
11.44am Motion defeated so the bill fails.
---
By Maggy Liu
12:00pm The bill for mandatory entrepreneurship classes in school is being read for the first time!
12:05pm "it will eat into the time spent on core subjects, useful for any job"
12:06pm "promotes unrestrained capitalism in our schools"
12:11pm "entrepreneurship education is critical to our society"
12:14pm Sponsors believe entrepreneurship teaches skills that are useful for preparing young people for jobs that don't even exist yet in our ever-changing future landscape.
12:18pm "I'd like to say that I agree with this bill but I can't find anything to agree with"
12:23pm offering entrepreneurship classes would be"stressing teachers" and "disengaging students"
12:27pm in regards to entrepreneurship being a core subject and taking time away from people that want to do maths and science, "what about the innovators, what about the thinkers?"
12:33pm a major point of contention at the moment is whether the course should be compulsory when the skills it is meant to cover (problem solve, do taxes, public speaking) are taught in other subjects
12:37pm "the government cannot create legislation on a buzzword alone"
12:50pm "I wish to indicate to the chambers that my vote is with the ayes" – President
12:51pm with some 'subtle' suggestions from the President, the bill passed 38 – 15!
By Rochelle Kirkham
1.32pm The debate is about to begin on the Introducing Medically Supervised Injecting Centres in Victoria Bill. The sponsor of the bill is YMCA Victoria. Refuting is Swinburne University.
Safe injecting facilities are staffed by nurses and social workers. People who are planning to inject are supplied with sterile equipment and a safe space to do so.
1.38pm Fiona Patten of the Australian Sex Party will be acting as president of the chamber. She explains her vote in the Senate is very important as the Government do not hold the balance of power. "I am really looking forward to this debate. As many of you know this is a policy I have a great interest in," Patten says.
1.41pm The bill calls for the introduction of medically supervised injecting centres in Victoria. "These are people. We need to empower them to help themselves," says YMCA Victoria team member James Holland.
"It is our duty to help those who want to help themselves."
The bill states is aim as helping protect the community.
1.45pm Swinburne University student Chistopher Jakobi opposes the bill and is concerned by the proposal of a safe zone with a radius of 2km from the centre. "Do the Opposition want to further opportunities for organised crime?," he questions. The bill will see service users in the safe zone exempt from being charged with drug offences by Victoria Police.
1.50pm The sponsor says Australia's first medically supervised injecting centre in Sydney's Kings Cross has paved the way for medical supervised injecting centres to be introduced in Victoria. He says it will create a safer Victoria.
Uniting Medically Supervised Injecting Centre in Sydney: "We recognise that drug dependence is chronic, with relapse being an in-built part of this, our focus is on harm reduction. This means we concentrate on reducing the negative consequences of drug use on a person's health and well-being. The Uniting MSIC does not support or promote drug use; it acknowledges that it is part of the community and seeks to provide assistance that is practical and sound."
1.54pm Sponsor team Jessica Evans: "We wish to provide safety and protection… 80 per cent of participants in the Kings Cross Medical Centre were referred to a rehabilitation centre."
1.57pm Sponsor: "This bill is only here to help… Service users are free of judgement in these areas."
2.00pm Sponsor Kelly Briggs: "People who take drugs need our help. This does not condone what they do, it simply makes it safer." She says medically safe injecting centres aim to prevent the spread of diseases such as HIV.
2.03pm Swinburne University refuter Prince Garg says instead of promoting drug use we should encourage addicts to stop using drugs.
2.05pm Sponsor says we should look to the success of medically supervised injection centres throughout the world. "The government goes on and on about other solutions, but there is none."
Switzerland opened the first supervised injecting facility in the 1980s. There are now approximately 90 safe injecting facilities worldwide with the majority in European countries; Germany, Spain, the Netherlands, Norway, Luxembourg and Denmark.
According to the Youth Drugs and Alcohol Advice website medically supervised injecting centres are "kitted out with emergency equipment and lifesaving medications". "Safe injecting facilities are, most importantly, places where accidental overdoses can be reversed.  They also offer pathways into treatment and other health services for people who inject drugs."
2.11pm "How do you propose you are going to remove drugs in society?,"the Opposition question the Government. "Drugs are illegal. But we cannot stop people from taking them. Providing a safe facility is the best we have come up with." Voices are raised with passion and the President encourages members to ignore the interjections.
2.14pm The refuters are concerned by the lack of support for rural areas. They argue medically safe injecting centres should also be introduced into rural areas. They also question the proposed age restrictions of 18 and above.
2.16pm Sponsor James Holland: "We want a happy society… The government is not seeking to help the most vulnerable… This is a gateway to the health system."
2.25pm Amendments are being made. The chamber is discussing lowering the entry age to centres from 18 to 16. Christopher Jakobi: "There are a substantial number of youth who take drugs who are under the age of 18."
2.30pm The Introducing Medically Supervised Injecting Centres Bill has passed! Fiona Patten says she hopes she will see a similar debate one day with her colleagues in the chamber.
2:43pm- The  Marijuana Control and  Reform bill  is being introduced by the sponsor right now, "this bill is about minimizing harm."
2:45pm- "Do we not have enough evidence that prohibition does not work?"
2:48pm- "This bill is a joke" says thee refuter, arguing against the government's evidence and claiming that marijuana is too dangerous.
"Society as a whole will suffer."
2:52pm- "Why not sell rat poison, as it would seem this clause would suggest." The opposition equates legalising marijuana with legalising types of dangerous  substances, such as rat poison.
2:55pm-  The government says prohibition creates negative stigma, making it harder for addicts to seek help.
2:57pm-  The opposition describes the government wanting to legalise and control marijuana as "ignorant  and selfish"
3:00pm- The government details that a proportion of money raised through the program will be used to fund programs to aid drug addiction etc.
3:01pm- "Does the government not  care for the health of Victorians?"
3:02pm- "Marijuana can literally shatter  chromosomes" says the opposition,  talking about the increased risk for cancers and mutations, which may be passed down to future generations.
3:03pm- Marijuana as a 'gateway drug' has repeatedly been brought up throughout this debate.
3:05pm- Talk of "shutting down this one section of  the black market."
3:09pm- Opposition is criticizing the government's unlimited amount part  of the bill,  giving unlimited access to marijuana, which they believe will lead to sales to family  and friends, outside of the government's control.
3:10pm- "Marijuana is not highly addictive. Where is your science coming from?"
3:14pm- "It's got to do with the environment"" say the government, about addiction.
3:18pm- The government argues that alcohol  is still classified as a drug, yet copious amounts are still able to be bought by anyone 18 years and older.
3:22pm- "There is an alcoholic culture. I don't want to see a marijuana culture up next.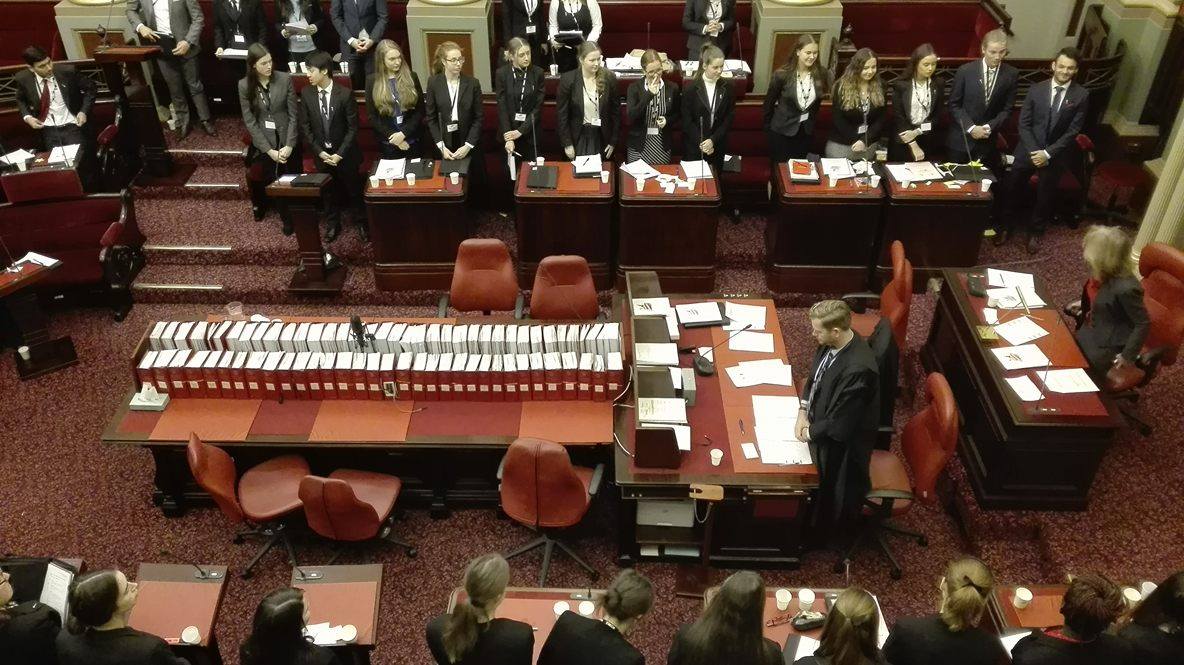 3:25pm- "There is so  much misinformation out there about marijuana."
3:34pm- Debate for amendments is now over.
3:39pm- A request for division, and the bells are ringing.
3:40pm-  The bill has been defeated, 21 to 32 votes. The Marijuana Control and Reform Bill will not pass Youth Parliament 2016.